The jewelry industry is going strong despite the significant setbacks caused by the COVID-19 pandemic. In fact, projections set the global jewelry market at over $307 billion by 2025 from 2020's $228 billion. If you're looking to be a part of this trend, we'll tell you all about wholesale nose rings and nose studs and how you can earn major profits by reselling them.
Why nose jewelry?
It's possible to accessorize different parts of the body — creativity's practically the limit here — with the nose being one of the most commonly blinged up. As a matter of fact, nose piercing has ancient origins, being practiced as early as 4,000 years ago. They have remained popular, with nose and septum piercings placing among the
top 10 most popular body piercings in 2020 .
Nose jewelry pieces are fashionable in many cultures and aesthetics, and they even have big-name wearers, such as Florence Pugh, Lenny and Zoë Kravitz, Miley Cyrus,
and Kelly Clarkson. But nose jewelry isn't just for celebrities. Just like earrings, nose rings and studs come in a wide assortment of shapes, sizes, and designs, which
means virtually anyone can find pieces that look good on them. Some are even easy to conceal, which is great for people in environments with strict dress codes.
What are the different types of nose jewelry?
If you want to sell nose jewelry, it's vital that you know your products. The two main categories we'll focus on in this article are rings and studs. Nose rings are hooped and some can be worn even without a piercing. These are some of the common types of nose rings:
● Captive bead – This features a hoop and a small dimpled bead. The bead is held in place by the ring's tension and can be removed to open the hoop.

● Bar closure – In this type, a small portion of the hoop can be pulled out on a small hinge to open the ring.
● Fake ring – This is an open hoop that can be attached to the nose even without a piercing. Wearers can press on the ring to secure it and prevent it from falling off.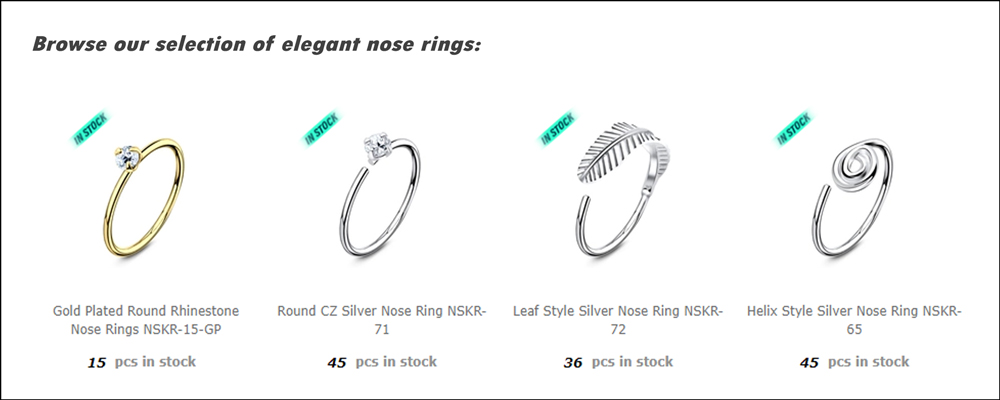 Nose studs, on the other hand, are small rods that are inserted through piercings. They are classified into these types:

● Fish tail – This features a long rod. After insertion, the piercer bends the end to secure it to the nose.
● Ball end/bone – This stud is straight, but has a ball on one end. The ball is slightly bigger than the rod's thickness and secures the stud in place after insertion.
● L bent – The end of this stud is bent 90 degrees to prevent it from sliding out of the piercing.
● Screw end/twist – This stud is like the L bent, but the tail is longer and is curved like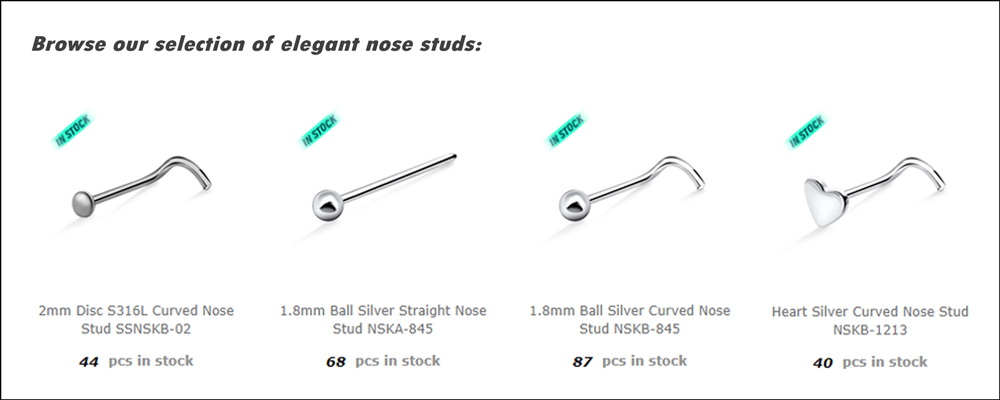 How do you resell wholesale nose rings and studs?
When it comes to starting and running your own jewelry business, it's essential that you follow the right strategy. Increase your chances of success by
doing &
the following:
Start with affordable products
You may be tempted to fill your inventory with expensive offerings, but this can be very risky. Customers likely already trust more established sellers for high-ticket jewelry, so it's best to build up
your brand with attractive but inexpensive products.
Sterling silver jewelry
pieces are especially ideal for this purpose, as they are beautiful, sturdy, and affordable.
What are the different types of nose jewelry?
Some wholesalers do not just have higher-quality products, but they also take care of their customers better. When looking for the best wholesaler, take these factors into account:
● Minimum order quantity (MOQ) – Some sellers will not do business with you unless you meet the required minimum order volume. If you're just starting out, opt for vendors with low MOQs so you can order more types of products for less money.
● Processing time – Even after you've established your brand, you want a vendor that can quickly process your orders, enabling you to refill your shelves once your
inventory runs out.
● Discounts and shipping costs – Some wholesalers offer discounts and free shipping once you meet the required order volume. These perks will lower your initial costs and increase profits from your inventory.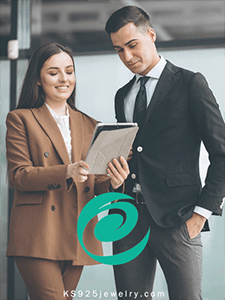 Looking for a trusted supplier of wholesale nose jewelry?
Click the button below to inquire:
inquire Now
Look for consistency
Choose a wholesaler with a long-term relationship with their supplier. A wholesaler that shifts from one supplier to another will have products with varying levels of quality, which can the quality of your own inventory.
Know what's hip
Consumers' preferences change over time, so it pays to stay abreast of what jewelry types, designs, and materials are in demand so you can maximize your revenue.
For example, did you know that vintage rings and nameplate jewelry are big in 2022? This is also another reason to invest in sterling silver, as this material is always in vogue.
Offer deals to your customers
Customers love to get more for their money's worth, so discounts can help convince them to buy your products. Offering deals can also improve your reputation and
increase the likelihood of customers returning to your business.
Find the right place to sell
Location can make or break your jewelry business. The rule of thumb is to find your ideal customer and sell where you are easily accessible to them. You don't have to sell from your own building — try pop-up shops, craft fairs, and trade shows. Alternatively, you can sell through your own website or social networks like Facebook or Instagram.
Why should you buy wholesale nose jewelry from KS925 Jewelry?
We offer high-quality and affordable wholesale nose rings and studs, and a wide selection of other jewelry types and designs. All of our products are made from authentic sterling silver and first-rate materials that are proven to be durable, as well as
safe for all wearers
. KS925 Jewelry takes great pride in our products and the quality of service we provide to our customers. Start your own jewelry business by
contacting us today
or visiting our website.