Although far from contagious or life-threatening, contact dermatitis can be extremely uncomfortable. In order to accessorize without triggering the condition, a person with sensitive skin must wear only accessories made from hypoallergenic materials, such as sterling silver.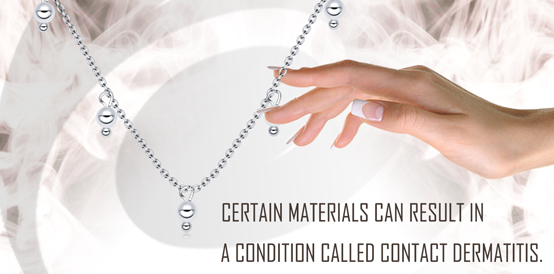 WHAT IS CONTACT DERMATITIS?
Contact dermatitis is an adverse reaction to prolonged or repeated contact with certain irritants. When such reactions are caused by contact with metals, these are commonly known and classified as metal allergies. Nickel is one of the most frequent causes of metal allergy — in fact, approximately 15% of women and 2% of men are allergic to it.
The symptoms of a nickel allergy often appear several hours after extended contact with the metal and may last for up to four weeks. The affected areas of the skin may exhibit:
● Swelling
● Redness
● Rashes
● Tenderness
● Itchiness
● Bumps
● Blisters that contain and ooze fluid
People experiencing a nickel allergy are advised to visit a dermatologist for treatment. It's best to avoid over-the-counter antibiotic creams unless prescribed, as these may contain ingredients that can worsen the allergic reaction.
To prevent nickel allergy, someone with sensitive skin ought to refrain from wearing costume or any type of cheap metal jewelry. Such accessories are usually made from low-cost metals like nickel, which is why they're inexpensive, to begin with.
DOES STERLING SILVER CAUSE ALLERGIES?
Pure silver is too soft, so it's alloyed with other metals to increase its sturdiness. Some manufacturers harden silver using nickel, creating an alloy that can cause an allergic reaction in people with sensitive skin. Inappropriately named silver allergy, this reaction is actually caused by the nickel in the alloy, as pure silver is naturally hypoallergenic.
Sterling silver is an alloy composed of 92.5% silver and 7.5% other metals, usually copper. It is not known to cause metal allergies, so it's considered among the safest materials for people who are susceptible to contact dermatitis.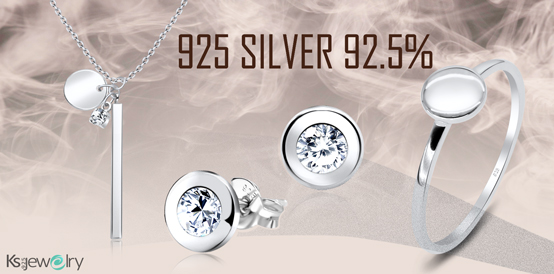 ARE STERLING SILVER-PLATED JEWELRY IDEAL FOR SENSITIVE SKIN?
People with sensitive skin may wear silver-plated jewelry albeit with extreme care, as many such accessories are made of nickel. On one hand, the plating may offer some degree of protection by creating a barrier between the nickel and the wearer's skin. This is especially true when the plating is top-grade and made from hypoallergenic metals like sterling silver.
On the other hand, even high-quality coatings wear off after some time, putting susceptible wearers at risk of suffering allergic reactions. Platings wear off the fastest in parts of jewelry that encounter a lot of friction. These include clasps, hooks, joints, and, incidentally, areas that frequently brush against the skin, such as the underside of rings.
SHOULD PEOPLE WITH SENSITIVE SKIN WEAR STAINLESS STEEL?
Many sterling silver jewelry pieces feature parts made from stainless steel, which is steel combined with chromium and various alloying metals. There are different types of stainless steel, which vary depending on their composition, and some of these may not be suitable for sensitive skin.
Those who are prone to metal allergies should select jewelry that uses surgical-grade stainless steel. This type does contain nickel, but it's safe enough for use even in medical applications. Otherwise, it's best to stick to nickel-free alloys when possible.
WHAT CAN JEWELERS DO FOR CUSTOMERS WITH SENSITIVE SKIN?
Being an outstanding jeweler doesn't just mean having gorgeous inventory. Rather, it also entails going the extra mile to understand and address customers' unique needs whenever possible. For instance, store staff should inquire if the customer has skin allergies before suggesting products. Jewelers can also put tags on their products that clearly indicate which pieces contain nickel and other allergy-causing materials.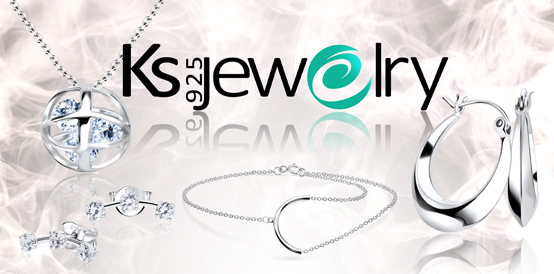 In any case, it always pays to source jewelry only from the most trustworthy suppliers. At KS925 Jewelry, we offer jewelry made from first-rate sterling silver and surgical-grade stainless steel, making them great even for people with sensitive skin. Contact us today or visit our website to learn more about our products.