It is different gameplay if you have sensitive skin, and you would not risk wearing any jewelry before knowing if it is hypoallergenic. The odds are raised when you are thinking about buying a new pair of earrings, and you want to avoid the frustration of dealing with red, itchy, and swollen ears.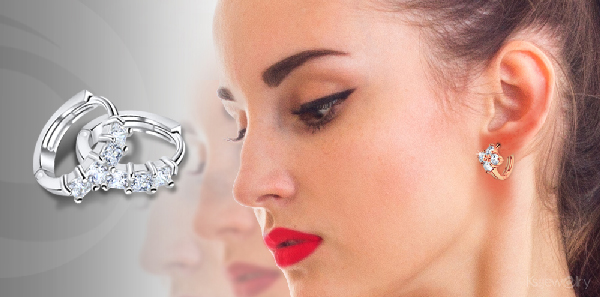 Are sterling silver earrings any good if you have sensitive ears?
Sensitive ears are caused when you wear earrings containing metals that cause allergies. The main culprits are nickel and cobalt that cause a reaction when they get into contact with your skin. While the reaction does not happen immediately, the effects are often noticed after a prolonged period of wear. However, in some rare cases, the allergic reaction is so strong that it can be noticed after only a few hours of contact.
Back to sterling silver, it is vital to know that this is not a pure metal but an alloy made from silver and other metals. This alloy is widely used to make jewelry because pure silver tends to be too soft and fragile. In turn, it must be mixed with other metals to create a stronger alloy before it is used to make jewelry. Unfortunately, the metals used to create this alloy are either nickel or copper. The use of these metals is often what raises questions about whether sterling silver earrings can be used if you have sensitive ears.
Generally, quality sterling silver is 92.5% pure silver and only 7.5% nickel or copper. This means that the traces of copper or nickel in sterling silver earrings are very low as it is largely constituted of pure silver. Still, if you have sensitive skin, you cannot overlook this small percentage, as all it takes for an allergic reaction to start is continuous contact with the metals used in the alloy.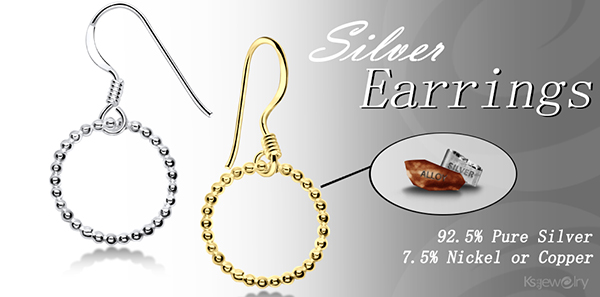 What does this mean if I have sensitive skin?
There is a thin line as to whether you can wear sterling silver earrings if you have sensitive skin or not. The reality is that you can suffer from skin reaction if you are highly sensitive to the metals used in the alloy, even if it is at low levels. This is because sterling silver is not rated as a true hypoallergenic alloy.
However, you can always try the clear nail polish trick if you want the pleasure of wearing our 925 Sterling silver earrings. All you need to do is paint the earring posts with clear nail polish and leave them to dry fully. It is important that you apply several coats so that there is a good barrier between the earring post and your ears. This way, you will solve the biggest problem that leads to sensitive skin, and that is direct contact with the metals used to make the sterling silver jewelry.
Note: You will need to regularly recoat your sterling earrings as the nail polish barrier wears thin after every use. It is the only way to maintain an effective barrier and eliminate all worries about your sensitive ears.