And while silver's high durability means your rings , bracelets, pendants ,and others will last a long time, you do have to take steps to keep them shiny and beautiful. In this blog, we give you tips on how to care for your silver jewelry.
WHAT HAPPENS TO SILVER OVER TIME?
Silver is a reactive metal, so it undergoes changes depending on the substances it comes in contact with. To illustrate, you will notice that your silver jewelry will gradually become less shiny with time. What's more, some parts of it will start to darken and eventually form a black patina. Commonly referred to as tarnishing, these changes are part of a natural process called oxidation. Tarnishing occurs when silver reacts with oxygen and substances that contain sulfur. These substances could be in the air, on your clothes, or even on your skin.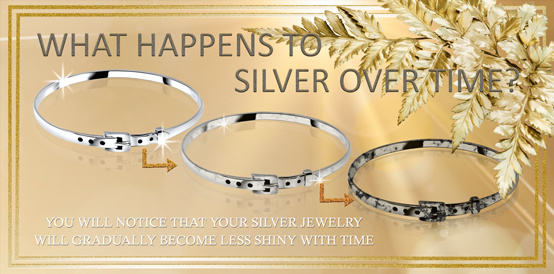 HOW CAN YOU PREVENT OXIDATION?
You can't completely stop your silver jewelry from oxidizing, but you can slow down the process. For starters, minimize your silver items' exposure to things and substances that cause oxidation. These include lotions, fragrances, makeup, and other cosmetic products. Certain foods may also contain oxidizing agents, so avoid wearing silver jewelry when preparing meals. Water may hasten the oxidation process, so take off your jewelry when showering, soaking in a tub, or swimming.
Your sweat may also contain sulfur, especially if you consume foods rich in this nutrient. Examples of sulfur-containing foods are eggs, whole grains, and cruciferous vegetables like broccoli, cauliflower, and kale. For this reason, it's best to remove your jewelry when performing strenuous activities, such as doing house chores and working out.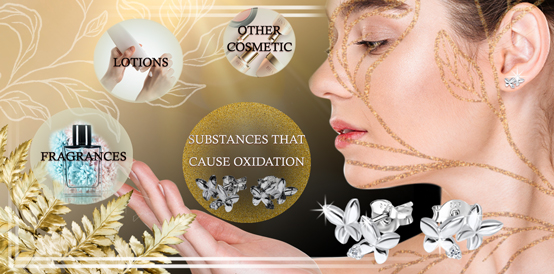 HOW DO YOU CLEAN YOUR SILVER JEWELRY?
Some people prefer oxidized silver jewelry for its aged look and because the dark patina emphasizes the ornament's fine details. But if you prefer your jewelry shining brilliantly, the good news is that you can remove tarnish yourself with a commercial silver cleaning solution or a homemade one, or have a professional do it for you
DIY: USING A CLEANING SOLUTION
If you don't feel like spending on commercial cleaning products or you have reservations about the safety of these products' ingredients, then you can whip up your own homemade solution. Here's what you'll need:
● An aluminum bowl or pot (or alternatively, aluminum foil)
● Hot water
● Baking soda
● Table salt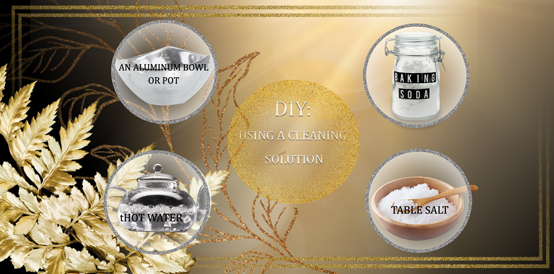 Once you have all the materials and ingredients, just follow these steps:
1. Fill the aluminum pot or bowl with hot water. If you don't have an aluminum bowl, line a deep container with aluminum foil and fill that with hot water.
2. Add ½ cup or 1 cup of baking soda and some salt into the water and stir until the granules are dissolved.–
3. Submerge your silver jewelry in the solution for a few minutes. This should gradually remove the patina.
4. Rinse the items in water and let them dry. Use some silver polish to bring them to a shine.
HAVE A PRO DO IT FOR YOU
When silver is exposed to harsh chemicals, black spots called pitting can occur. Pitting penetrates deep into the item's surface and is considered to be a sign of damage, especially in silver-plated jewelry. It may happen when people are not careful with cleaning their silver.
A good way to minimize the risk of pitting is to entrust cleaning to a professional. This may be more expensive than buying a commercial cleaning solution, but no one knows how to clean and restore silver items better than the pros.
Caring for your silver jewelry is necessary to ensure its longevity. If you want high-quality silver jewelry that will last for years to come, then look no further than [company_short]. Learn more about our products by visiting our website or contacting us today .